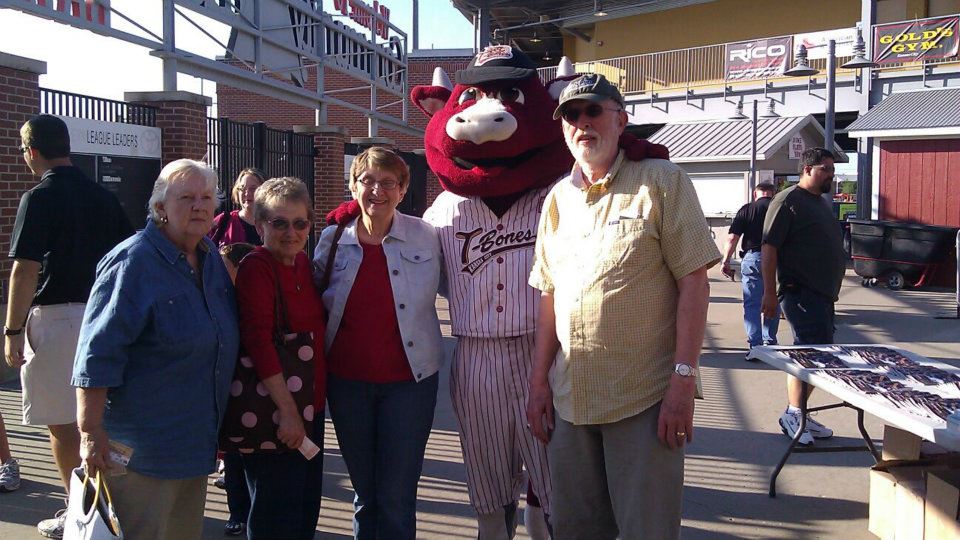 Meet us there or ride along. Register for all lunch bunch outings.
Fee: $3
Date: February 6, Hot off the Press, Wellsville, KS
March 12, Southern Eats, Paola, KS
April 14 @ 4:00 pm, Kobe Japanese Steakhouse, Lawrence, KS
May 14, Guy & Mae's, Williamsburg, KS
Time: 11 am
Casino:
Are you feeling lucky? Try your luck at Prairie Band Casino, outside of Topeka, KS.
Fee: $3
Date: February 26
Time: 9 am
Wine Tasting:
Our first stop will be at Froggy's in St. Marys, KS for lunch. After lunch, a quick jaunt down the road to Prairie Fire Winery, in Paxico, KS, and then to Wyldewood Cellars for delicious wine tasting. (lunch is not included)
Fee: $10 (includes wine tasting)
Date: February 20
Time: 10:30 am
New Theatre-Church Basement Ladies:
The hilarious musical comedy that mixes the silliness of Nunsense with the homespun humor of Prairie Home Companion. It's a celebration of the church basement kitchens everywhere and the wonderful unsung women who work there. Starring Cindy Williams from Laverne & Shirley.
Fee: $36
Date: March 4, 2020
Time: 10:30 am
Chestnut Theatre-Down by Riverside:
Down By the Riverside is a joyful, energetic celebration of gospel music - Join us as we share inspiring hymns, touching lyrics and upbeat numbers that will make you tap your feet and clap your hands! Before the curtain closes, you'll be singing along with the wonderful voices on our stage.
Fee: $30
Date: March 25, 2020
Time: 1 pm
Trails Day Café & Museum(Council Grove):
With its' foundation laid in Kansas Territory, the Rawlinson-Terwilliger Home was built alongside the famed Santa Fe Trail as Kansas became the 34th state. Here diners enjoy museum surroundings and a dining experience with history. Guests are transported back to a time when some homes along the Santa Fe Trail served as eating places. We are not a "fast Food", so be prepared to take your time to enjoy a relaxing time reading, exploring and having a fun time tasting, smelling, seeing, hearing and being surrounded by history and culture! The McClintock's are looking forward to providing lunch and giving history lessons!
Fee: $20
Date: April 27
Time: 9:45 am
JAWBATS Tour in Baldwin City:
The foundation for JAWbats was formed when owner Jacob Walters was just 16. He grew up with two passions in his life: wood turning and baseball. Those passions converged when Jacob turned out his first baseball bat during the summer of his sophomore year of high school. From that point on, his skill and zeal for creating beautiful, effective baseball bats grew. While playing college baseball, the endless road trips, sleepless nights and Jacob's love of the game helped him focus on bettering his product. Jacob's own drive for perfection in both playing and creating built the foundation upon which JAWbats was formed. In the middle of his collegiate career, in June of 2012, JAWbats, L.L.C. was born. This company has opened his doors to us right here in Baldwin City. Join us for a tour and brief information about this company. Afterwards, if you desire, we can meet at The Nook for small talk and
conversation.
Date: April 7
Time: 1 pm
If it's Monday-This must be Murder-Garnett, KS:
Harry Monday is a throwback to the private detectives of 1940's black and white movies. Only Harry is more gum-on-your-shoe than gumshoe. He's posing as a golf playing psychiatrist at the Shady Meadows Country Club. "A place where old polyester goes to die," says Harry, after club members start dropping like divots on the duffer's course. And the club members aren't much saner than he is: a prima donna club president, an astrological moon child, a Wall Street ad man, and someone claiming to be the twin of a missing club member. They're all dropping red herrings in their wake. Throw in a naïve supervisor, a sultry, hard-hearted dame and a surly police sergeant and you have to figure "If It's Monday, This Must be Murder!"
Fee: $29
Date: June 4, 2020
Time: 5:15 pm